JamPlay Review
In this Jamplay Review we show you both the pros and cons that will help you understand why we rated Jamplay as the #1 Best Online Guitar Lesson. Our Jamplay Review is based on 26 years of experience as professional guitar players and private one-on-one teachers from our Austin, Texas learning studio at 114 6th Street.
O.K., are you ready to learn how to play a Guitar with the largest and most respected online guitar lessons community? Jamplay has over 276,000 guitarist that have experienced there video-based online course.
Jamplay is for the beginner, intermediate and advanced guitarist that wants to improve his or her guitar skills.               Check out the Pros and Cons Below.
Pros
68+ professional instructors

Tons of HD-quality video guitar lessons

1,000+ of genres & styles covered (Country to Heavy Metal)

10,000′s of online members to chat with and learn from online (276,000+ guitarists have used JamPlay!)

Very-organized, active forum

Live webcast lessons from the professionals instructors

Software: Guitar Tuner & Metronome

Built-in backup tracks for perfecting your performing skills

Awesome Chord, Scale & Riff Libraries

JamPlay has an iPhone app so you can view guitar lessons on your iphone or ipad device.
Cons
Not the lowest cost course available (But the best)

Must have both Computer and Internet

Subscription is a must for these lessons
Visit Jamplay signup page and add the 25% off coupon code here 7A508817CB. This Jamplay coupon code is only good for the 1st month of a monthly membership fee allowing you to only pay $14.96 Today!

Community:

With many thousands of active users, Jamplay is like a social network community for Guitarists. Learning to play guitar online has its challenges and there's nothing better than knowing your community will be there to offer you advice and support at any time.

Cords Library:

The JamPlay Chord Library has more than 950,000 chords available allowing the student to easily print and save chord sheets from ongoing sessions.

Guitar Scale library:

This scale library is the most robust and complete guitar scales library available online.

JamTracks Scale Library:

The JamPlay community has the only Guitar Lessons JamTracks library with more than 500 professionally recorded tracks.

Interactive Games:

Learning to play the guitar can be a challenge, Jamplay Interactive Games allows you to have fun while it helps you identify the notes on the fretboard, trains you to recognize the hundreds of various symbols in multiple choice format, teaches you to reading music notation and further your ability to develop pitch recognition skills,

Lick & Riff library

This section will allow you to watch short videos of soloing and rhythm ideas, you will be inspired to be more creative as you learn.

Customized Progress Reports:

This feature allows the student to modify, monitor, and create personal reports to show there progress through the lessons.
Jamplay Review Notice: Jamplay is a membership community with over 188,000 active guitarists online, so you will be paying a small monthly fee of $19.95 per month or you can pay quarterly or yearly for even more discounts. If you become a member of Jamplay you will not only learn how to play the guitar, but perform, read and write music,  learn multiple styles of play like rock, country, metal, jazz and more.
Jamplay updates there video content daily with new lessons and as a beginner gives you the choice between learning guitar on Acoustic or electric guitar witch is amazing.
The Jam Play video player is like no-other online guitar course, all the video lessons are recorded in High definition from multiple angels so you can see clearly what your guitar instructor is doing. If you have a question for your instructor, just leave a comment on the comment form and the teacher will answer it or read others questions and answers that may help you out faster.
Click Image to see full member interface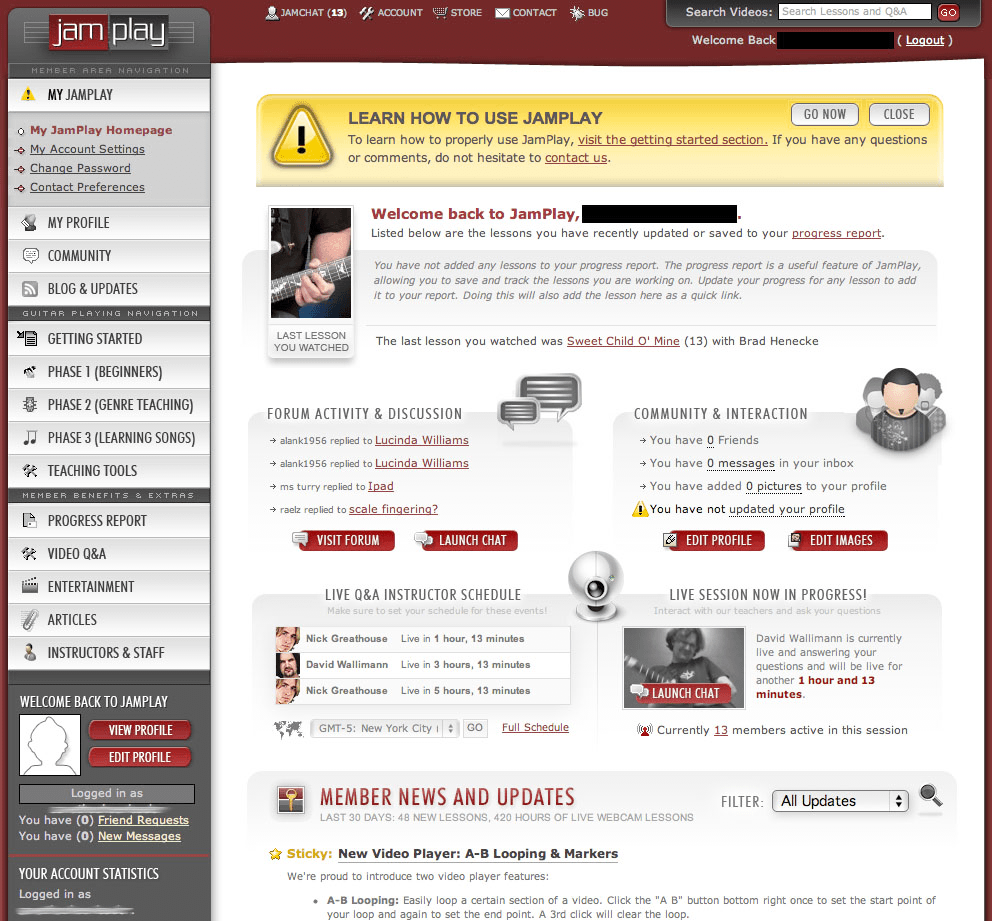 Below is a (Basics Guitar Lesson) Example video that shows you how JamPlay guitar lessons are presented, plus above we give you our in-depth JamPlay Reviews including Pros & Cons.
Please watch this Jamplay Reviews Basics Guitar video

Conclusion
With our 26 years experience as private guitar teachers we have concluded in this JamPlay Review that JamPlay is without a doubt The Best Online Guitar Lessons Course we've ever reviewed or used.
While many people think that private Guitar lessons are the best way to go, well that can be very costly and overpriced, an average 30-minute guitar lesson costs about $35 (and can go up to over $55 or more), meaning just two lessons per week will cost you about $2,080/year!
A monthly membership with JamPlay only costs $19.95, Quarterly Membership: $49.95, Yearly Membership $139.95 and you get full access over 60 guitar instructors instead of 1, HD Videos, Live video chats and become apart of the largest online guitar lessons forum.
Likewise, it's important for you to understand that within 7days of your purchase, still you don't think JamPlay deserves your $14.96 payment (with the 25% off coupon code) for limitless access to more than 5,000+ High-definition video guitar lessons, you can have 100% of your money back, no questions asked – there's no risk!

JamPlay is our #1 recommendation for Learning Guitar
JamPlay Coupon Code 7A508817CB  (Save 25%) on 1st month


Also;  Coupon Code A7ECB81ADC  saving 10% on ANY JamPlay membership



The best Jamplay Review coupon code gives you a savings of 25% OFF your first month membership fee (Savings you $4.99) Just click on the gold check out button below and insert coupon code 7A508817CB on the Signup page and pay only $14.96.