Learn & Master Guitar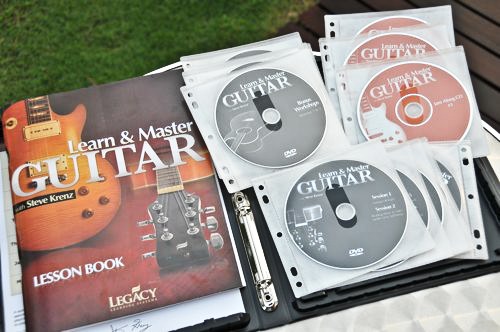 We spent many hours reviewing Gibson's Learn and Master Guitar course. We rated this course #3 on our list of the 4 best online guitar lessons for study at home.
In this complete Gibson's Learn and Master Guitar Review: I'll guide you through the Pros & Cons of this lesson. This course is a little more costly than most lessons (at $149.95), but you get a popular, beautiful award winning DVD guitar course.
Rating: 8.7/10. Rank: #3. We've found Learn and Master Guitar to be a great guitar course for beginners that are looking for DVD guitar lessons. I wouldn't say this course is for intermediate or advanced guitar players, for that we still think jamplay or guitar tricks is a better pick.
Pros
• Very professional quality DVDs, CDs and workbook.
• Unlimited Access to Online Community Forum
• Gifted professional guitar teacher
• Unlimited Access to Online Community Forum
Cons
• Can be slow getting going at the start if you're intermediate.
• Only 1 teacher
• Presses you rather quick in the workshops on guitar chords
• Costly: $149 + S&H for 40 lessons
Conclusion
Gibson's Learn and Master Guitar is a professional DVD course, and you pay for it too being the most expensive study at home course I've tried.
Still for the price you get an award winning course that guides you from learning how to hold a guitar correctly to playing really cool advanced level songs. Each lesson introduces you to a new way to play guitar and finger picking exercises that allows you to improve as a guitar player.
Most guitar review site out there appears to enjoy this course, but when I purchased it to review, I found out that it does not live up to what those sites say. This Gibson's Learn and Master Guitar review is unbiased and I hope it will help you decide if this guitar DVD course is for you.